Case Study: Placenta Previa, Accreta, Hypertension, and Anemia in Pregnant Women at 35-36 Weeks Gestation with Previous Cesarean Section
Keywords:
Total placenta previa, Placenta accreta, Gestational hypertension, Anemia
Abstract
Placenta accreta is a rare but serious pregnancy complication where the placenta attaches abnormally in the uterus. It affects around 0.9% of pregnancies and is linked to risks like placenta previa and prior C-sections, with its incidence rising due to increased C-section rates. Prompt diagnosis is essential as it contributes to 7-10% of global maternal deaths. This case study involves a 39-year-old pregnant woman at 35-36 weeks with placenta previa and suspected accreta. Vaginal bleeding and pain raised concerns. Anemia and gestational hypertension further complicated matters. Ultrasound and MRI confirmed total placenta previa and suspected accreta, with a PAI score of 4. A cesarean section and supravaginal hysterectomy successfully managed the situation. FIGO grade II placenta accreta was found. Early detection and management are key for neonatal maturity and maternal safety.Imaging and risk factor identification and diagnosis. Multidisciplinary teamwork among obstetricians, radiologists, and specialists is crucial. This case underscores diagnosing and managing placenta accreta, using imaging and teamwork for optimal outcomes. It highlights the importance of addressing abnormal placental conditions, emphasizing accurate diagnosis, and a collaborative approach for effective management. This case underscores the urgent need for early diagnosis, multidisciplinary management, and advanced imaging techniques to address the life-threatening complexities of placenta accreta, emphasizing the crucial role of collaboration among specialists, identification of risk factors, and timely interventions, especially with rising C-section rates, to enhance outcomes and minimize maternal and fetal risks.
References
Shepherd, A. M., & Mahdy, H. (2022, September 26). Placenta Accreta. In StatPearls. StatPearls Publishing. Retrieved from https://www.ncbi.nlm.nih.gov/books/NBK563288/
Dwyer, B. K., Belogolovkin, V., Tran, L., Rao, A., Carroll, I., Barth, R., Chitkara, U. (2008). Prenatal diagnosis of placenta accreta: sonography or magnetic resonance imaging? J Ultrasound Med, 27(9), 1275-1281. doi: 10.7863/jum.2008.27.9.1275
Piñas Carrillo, A., & Chandraharan, E. (2019). Placenta accreta spectrum: Risk factors, diagnosis and management with special reference to the Triple P procedure. Womens Health (Lond), 15, 1745506519878081. doi: 10.1177/1745506519878081
Adu-Bredu, T. K., Rijken, M. J., Nieto-Calvache, A. J., Stefanovic, V., Aryananda, R. A., Fox, K. A., Collins, S. L. (2022). A simple guide to ultrasound screening for placenta accreta spectrum for improving detection and optimizing management in resource limited settings. Int J Gynaecol Obstet. Advance online publication. doi: 10.1002/ijgo.14376
Cunningham, F. G. (2021). Williams Obstetrics, 26th Edition. Chapter 43-Haemorrhagic Placental Disorders. McGraw-Hill Education.
Senkoro, E. E., Mwanamsangu, A. H., Chuwa, F. S., Msuya, S. E., Mnali, O. P., Brown, B. G., Mahande, M. J. (2017). Frequency, Risk Factors, and Adverse Fetomaternal Outcomes of Placenta Previa in Northern Tanzania. J Pregnancy, 2017, 5936309. doi: 10.1155/2017/5936309
Rahimi-Sharbaf, F., Jamal, A., Mesdaghinia, E., Abedzadeh-Kalahroudi, M., Niroomanesh, S., Atoof, F. (2014). Ultrasound detection of placenta accreta in the first trimester of pregnancy. Iran J Reprod Med, 12(6), 421-426. PMID: 25071851
Baughman, W. C., Corteville, J. E., & Shah, R. R. (2008). Placenta accreta: Spectrum of US and MR imaging findings. Radiographics, 28(7), 1905–1916. doi: 10.1148/rg.287085060
Perlman, N. C., & Carusi, D. A. (2019). Retained placenta after vaginal delivery: risk factors and management. Int J Womens Health, 11, 527-534. doi: 10.2147/IJWH.S218933
Berhan, Y., & Urgie, T. (2020). A Literature Review of Placenta Accreta Spectrum Disorder: The Place of Expectant Management in Ethiopian Setup. Ethiop J Health Sci, 30(2), 277-292. doi: 10.4314/ejhs.v30i2.16
Elbohoty, S. B., Dawood, A. S., & Elgergawy, A. E. (2020). Gynecological Presentations Following Supravaginal Hysterectomy for Benign Pathologies. doi: 10.33552/WJGWH.2020.03.000558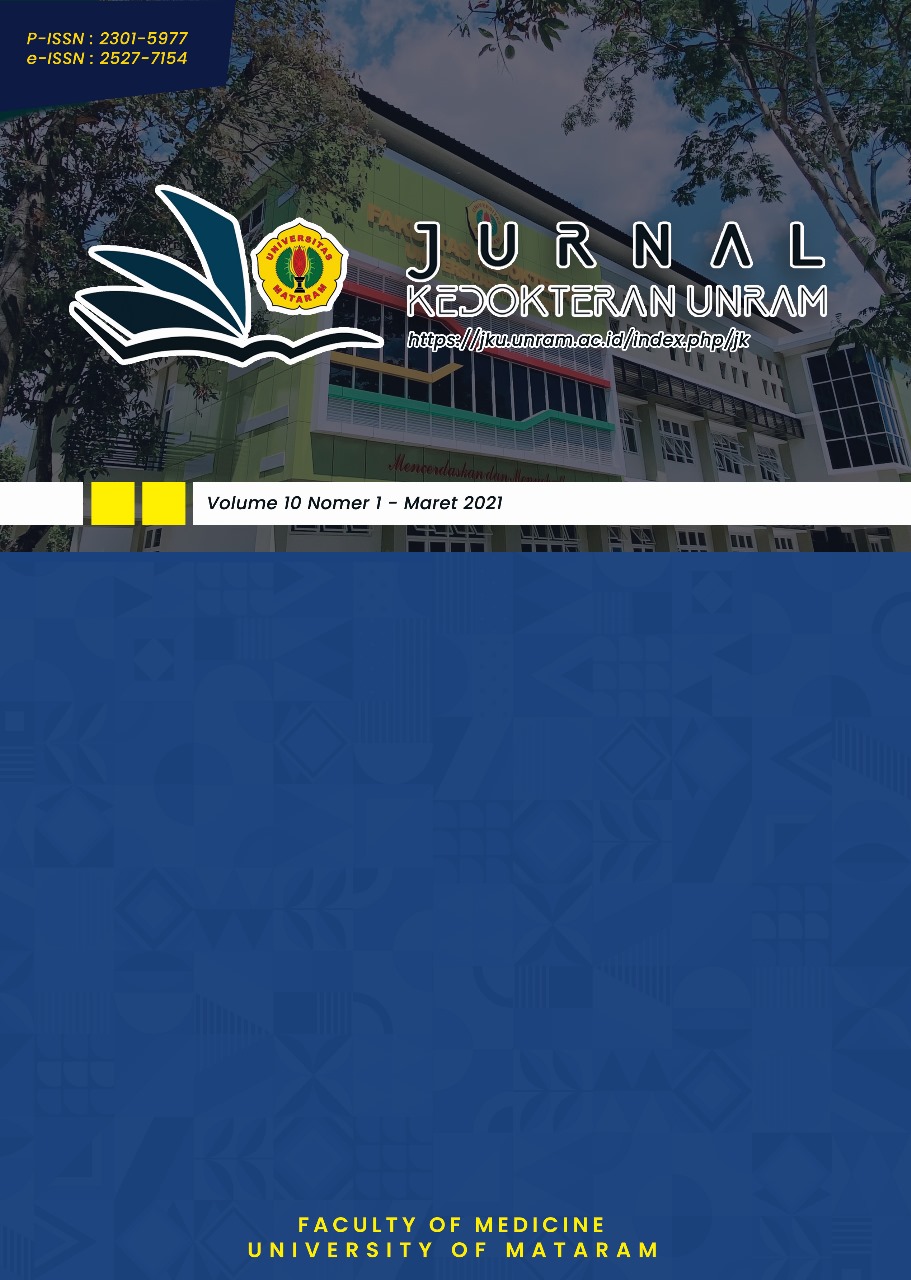 Downloads
How to Cite
Hamid, R., & Noviyanti. (2023). Case Study: Placenta Previa, Accreta, Hypertension, and Anemia in Pregnant Women at 35-36 Weeks Gestation with Previous Cesarean Section. Jurnal Kedokteran, 12(3). https://doi.org/10.29303/jku.v12i3.973
Section
Literature Review
License
Copyright (c) 2023 Jurnal Kedokteran
This work is licensed under a Creative Commons Attribution-NonCommercial 4.0 International License.