Infeksi Multipel Organ Tuberkulosis Ekstrapulmonal pada Anak yang disertai Malnutrisi Tipe Marasmus
Infeksi Multipel Organ Tuberkulosis Ekstrapulmonal pada Anak yang disertai Malnutrisi Tipe Marasmus
Keywords:
Tuberculosis, Extrapulmonary tuberculosa, Pleuritis tuberkulosais, Pericarditis, Pericarditis tuberculosis, Efusi, pericardioctmy
Abstract
Mycobacterium tuberculosis infection in organs outside the lungs is a case that occurs quite often, especially in children, one example is TB pleurisy and TB pericarditis which can cause complications in the form of cardiac tamponade, shock and death. Mtb infection in children generally shows non-specific symptoms, and can even show negative bacteriological results. This case will be described regarding Mtb infection in a 16-year-old girl who was clinically diagnosed with pericardial effusion, bilateral pleural effusion, impending cardiac tamponade et causa pericarditis. Malnutrition was also found in this child which could be a risk factor for infection.
References
Adeyinka, A., & Kondamudi, N. P. (2022). Pediatric Malignant Pleural Effusion Continuing Education Activity. Statpearls. https://www.ncbi.nlm.nih.gov/books/NBK507720/
Afsharpaiman, S., Izadi, M., Ajudani, R., & Kosravi, M. H. (2016). Pleural Effusion in Children: A Review Article and Literature Review. International Journal of Medical Reviews, 3(1), 365–370. https://www.ijmedrev.com/article_63024_6a3d721aa0f4183bfd07b74663c125be.pdf
Ajudani, R., & Khosravi, M. H. (2016). Pleural Effusion in Children: A Review Article and Literature Review. https://www.researchgate.net/publication/304540772
Arango-Moreno, R., Múnera-Echeverri, Ana G, Gaviria-Aguilar, M. C., Mejía-Zuluaga, M., Duque-González, L., & Duque-Ramírez, M. (2020). Etiologías del derrame pericárdico severo. Cardiovascular and Metabolic Science, 31(3), 71–75. https://doi.org/10.35366/95586
Dybowska, M., Błasińska, K., Gątarek, J., Klatt, M., Augustynowicz-Kopeć, E., Tomkowski, W., & Szturmowicz, M. (2022). Tuberculous Pericarditis—Own Experiences and Recent Recommendations. In Diagnostics (Vol. 12, Issue 3). MDPI. https://doi.org/10.3390/diagnostics12030619
Gopalaswamy, R., Dusthackeer, V. N. A., Kannayan, S., & Subbian, S. (2021). Extrapulmonary Tuberculosis—An Update on the Diagnosis, Treatment and Drug Resistance. Journal of Respiration, 1(2), 141–164. https://doi.org/10.3390/jor1020015
Isiguzo, G., Du Bruyn, E., Howlett, P., & Ntsekhe, M. (2020). Diagnosis and Management of Tuberculous Pericarditis: What Is New? In Current Cardiology Reports (Vol. 22, Issue 1). Springer. https://doi.org/10.1007/s11886-020-1254-1
Kementerian Kesehatan Republikk Indonesia. (2022). Tuberculosis Control In Indonesia 2022. https://tbindonesia.or.id/wp-content/uploads/2023/02/Factsheet-Country-Profile-Indonesia-2022.pdf
Leon-Viveros, C. M., Ramirez-Reyes, J. C., Juarez-Rebollar, D., Xochihua-Diaz, L., & Barragan-Padilla, E. B. (2022). Recurrent Bilateral Pleural and Pericardial Effusions due to Tuberculosis in a Child With Doose Syndrome: A Case Report. International Journal of Clinical Pediatrics, 11(1), 14–19. https://doi.org/10.14740/ijcp456
Mehdizadegan, N., Mohammadi, H., Amoozgar, H., Pournajaf, S., Edraki, M. R., Naghshzan, A., & Yazdani, M. N. (2022). Pericardial effusion among children: Retrospective analysis of the etiology and short-term outcome in a referral center in the south of Iran. Health Science Reports, 5(3). https://doi.org/10.1002/hsr2.652
Obihara, N. J., Walters, E., Lawrenson, J., Garcia-Prats, A. J., Hesseling, A. C., & Schaaf, H. S. (2018). Tuberculous pericardial effusions in children. Journal of the Pediatric Infectious Diseases Society, 7(4), 346–349. https://doi.org/10.1093/jpids/pix087
Ratna Sari, I., & Asih Setyoningrum, R. (2020). Risk Factors of Extrapulmonary Tuberculosis in Children. In Indian Journal of Public Health Research & Development (Vol. 11, Issue 7).
Shakur, S., & Afroze, S. (2018). Marasmus: An Update and Review of Literature. JSM Nutr Disord, 2(1), 1008.
Shodikin, M. A. (2021). Case Report: Tuberculosis with Pericardial Effusion in Children. MEDICAL AND HEALTH SCIENCE JOURNAL 2022 FEBRUARY, 6(01). https://doi.org/10.33086/mhsj.v5i2.2154
Sousa, George. J. B., Silva, J. C., Queiroz, T., Bravo, L. G., Brito, G. C. B., Pereira, A., Pereira, M. L. D., & Santos, L. K. X. (2019). Clinical and epidemiological features of tuberculosis in children and adolescents. Rev Bras Enferm [Internet], 72(5), 1271–1279. https://doi.org/http://dx.doi.org/10.1590/0034-7167-2018-0172
Syafina, I. (2019). TINJAUAN PUSTAKA PERICARDITIS TUBERKULOSIS Ikhfana Syafina. Anatomica Medical Journal, 2(3).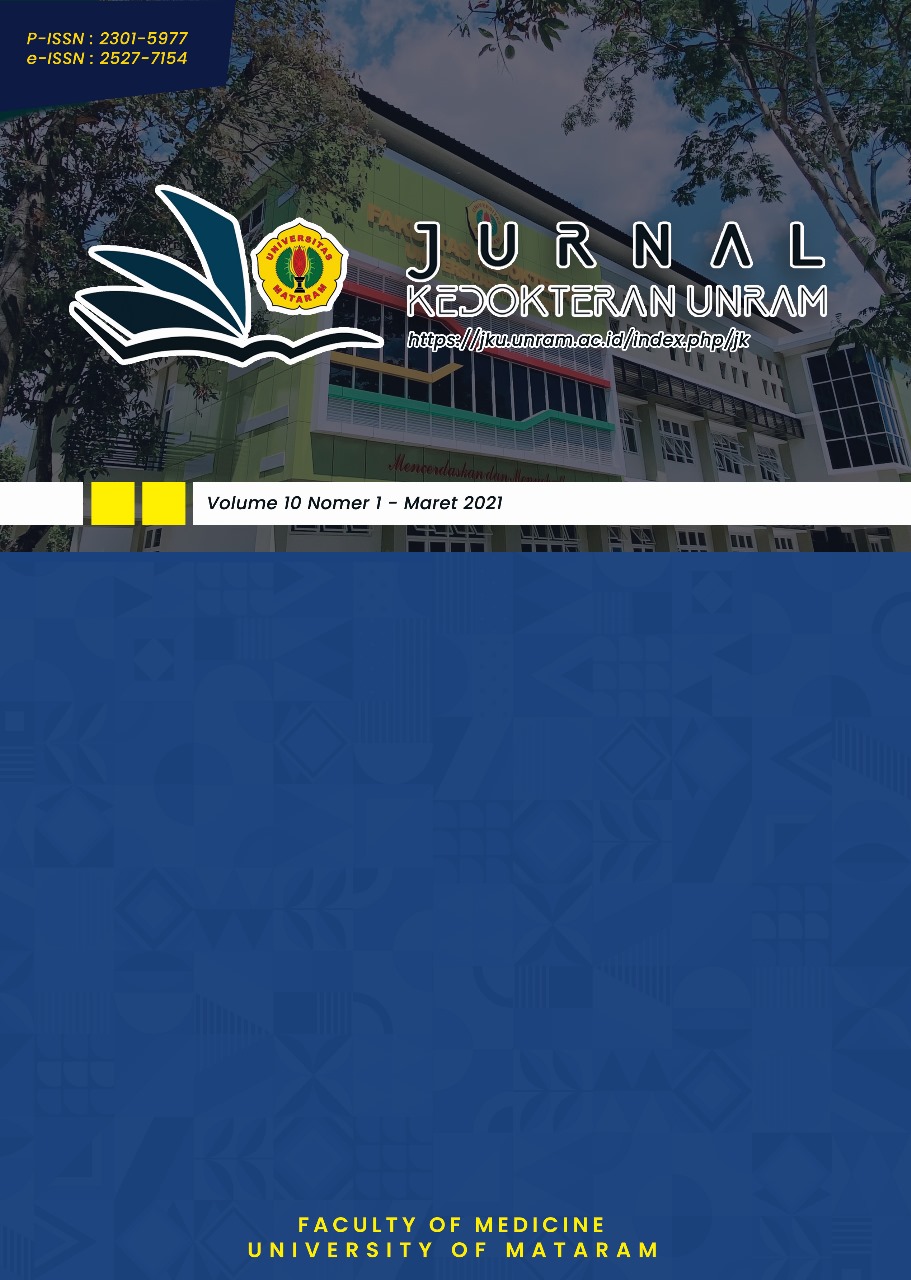 Downloads
How to Cite
Rizky, D. M., & Sari, L. S. (2023). Infeksi Multipel Organ Tuberkulosis Ekstrapulmonal pada Anak yang disertai Malnutrisi Tipe Marasmus : Infeksi Multipel Organ Tuberkulosis Ekstrapulmonal pada Anak yang disertai Malnutrisi Tipe Marasmus . Jurnal Kedokteran, 12(3), 309–315. https://doi.org/10.29303/jku.v12i3.975
License
Copyright (c) 2023 Jurnal Kedokteran
This work is licensed under a Creative Commons Attribution-NonCommercial 4.0 International License.